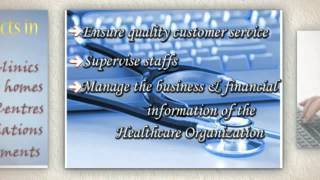 "Healthcare Management is a field that requires scheduling, planning, problem solving, and general leadership. For More Information:"
Eligibility: Graduates in healthcare management who are easily termed as the medical and health services managers/executives are mainly responsible for planning, coordinate and also play a vital role in directing the medical and health services. Some of them are responsible for managing the entire entity while some might feel lucky by handling responsibilities of running a specific department or clinic or a section of the hospital, depending on the size of the organization they are recruited to.
Job Prospects:  According to U.S. Bureau of Labor Statistics, employment of medical and health services managers in the country is expected to grow by at least 22 percent during the period 2010-2020, faster than the average for all occupations. As the large baby-boom population ages and people remain active later in life, the healthcare industry as a whole will see an upward turn in the demand for medical services. 
Expected Job Growth: Meltdown of several other industries could not make much a dent on the prospects and happening of the healthcare industry even as it has posted a steep rise during the previous years and still rising with newer players joining the fray every other day.
During the period 2001-2006, it added just over 3.1 million jobs, highest by any single industry while Bureau of Labor Statistics believe that during the period 2006-2011, it has added over 3.82 million jobs even as the Bureau awaits the final data collected from all the States.
For more information on MBA Health Care Management ,
http://www.schoolanduniversity.com/study-programs/business/mba-health-care-management
http://www.trafficgeyser.net/lead/healthcare
See on www.youtube.com