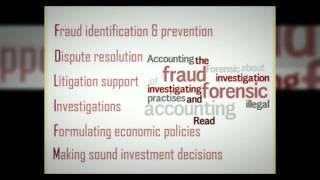 "Forensic Accounting is a specialization of accounting that uses auditing and investigating to determine if accounting fraud has taken place within a company…."
Eligibility: have to audit and investigate the financial details in connection with the legal disputes. Most of them have to work with the lawyers, insurance companies, banks, business firms etc. Since there is a tremendous increment in the white-collar financial fraud crimes in the corporate world, every organization need the assistance of a forensic accountant.
Job Prospects: Job prospects are expected to be good for the candidates with certifications such as CPA (Certified Public Accountant), CFE (Certified Fraud Examiner) and Cr FA (Certified Forensic Accountant). Law firms, Business organizations, Insurance companies and Government authorities are some of the employers that demand the service of forensic accountants. Bachelor's degree serves as an entry level educational qualification, but applicants with master's degree in forensic accounting can find better job opportunities.
Expected Job Growth: According to the U.S. Bureau of Labor Statistics the employment opportunities of accountants and auditors is expected to increase by 16 percent from 2010 to 2020. 
Forensic accountants, otherwise known as investigative accountants offer assistance in solving the complex business issues associated with the legal issues. In cases such as bankrupt, financial frauds, insurance claim disputes, business investigation claims etc, forensic accountants have to act as a financial detective.
For more information on MBA – Forensic Accounting ,
http://www.schoolanduniversity.com/study-programs/business/mba-forensic-accounting
http://www.trafficgeyser.net/lead/forensic
See on www.youtube.com