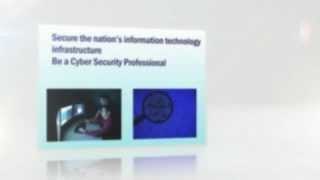 "Cyber attacks are being waged all over the world, and the demand for Cyber Security professionals has never been greater. For More Information:"
Eligibility: Cyber security professionals are responsible for protecting the data security of the company or government agency they are working for and protect the computer information systems and computer networks from cyber attacks and also any kind of information leaks and thefts. 
Job Prospects: Job outlook for cyber security professionals apparently looks good and it is a fast growing field since there is a tremendous growth of internet, computer networking and related information systems. Due to this and also as a result of increasing instances of hacking and cyber crime, the demand for cyber security professionals is expected to be higher.
Expected Job Growth: According to the U.S. Bureau of Labor statistics, employment of information security analysts projected to grow 22 percent and that of of private detectives and investigators including computer forensic investigators is expected to grow 21 percent from 2010 to 2020.
Cyber security professionals also on the basis of their questioning and research, decide on the privileges that are given to the staff on their work stations and what information they can access and whether they can access the internet or download programs or not. Cyber security experts use their findings to plan the security system.
For more information on Cyber Security ,
http://www.schoolanduniversity.com/study-programs/criminal-justice/cyber-security
http://www.trafficgeyser.net/lead/security
See on www.youtube.com